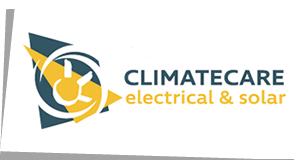 RECENT POSTS
Back to Latest News & Specials
Climatecare Electrical under new Ownership.
22 March 2016
Kelvin and Joanne, who have been joint owners of Climatecare Electrical since its inception in 2005, are transitioning to retirement, and are pleased to announce a change in ownership.
The value in the business has been created by supporting our customers with honest advice and dependability.  As such they have worked hard to ensure that the on-going business recognises that outstanding customer service & support remain as the underlying culture of Climatecare Electrical. Our motto, "We Genuinely Care" remains true to word.
The new owner's, true Rocky locals, Andrew and Sue really love the industry, understand how it works, and are keen and capable of developing the future potential, especially the emerging market of Battery Storage for home and business. Andrew brings an electrical background and a wealth of engineering skills to the business. He has designed many large commercial projects and Off Grid systems over the last 6 years. Sue has a true passion helping families save energy costs in the home. She has strong administration and management background and has also been involved some large commercial projects in Central Queensland.
The great staff at Climatecare Electrical have been retained and are excited about the future under new management.
Climatecare Electrical continues to provide a friendly service that is accountable, with quality Solar Power, Hot Water and Air Conditioning products that delivers energy efficiency.
No major changes are planned for the business in the short term and Kelvin will be staying on as a technical consultant, mentor and industry advocate. All warranties remain valid and as always, you, our clients come first.