Energy Saving Products
Sometimes, installing solar power is just part of the solution to reduce your energy costs. At Climatecare Electrical, our motto is "We Genuinely Care" and as such we like to take an holistic approach to your needs, considering all the factors that contribute to your overall power bill. Installing Energy Saving products with your solar will often deliver the best results for you. We have taken the time to research and test the best Energy Saving products available such as these. –
Power Diverters
Power Diverters are designed to divert surplus solar power that would otherwise be exported, into your Hot Water System. In doing so it saves you more money than the exported energy would generate from a Feed in Tariff.
There are a few different ones on the market and Climatecare Electrical recommend Catch Power. These fantastic little units offer some impressive features.
Australian Made for Australian Conditions
Allows your Hot Water System to be connected to both Solar Power and Off Peak tariff
Smart Logic ensures that even during prolonged periods with little surplus solar, your hot water will always be hot.
Single and 3 phase models available
5 year warranty
There are 2 Catch Power models,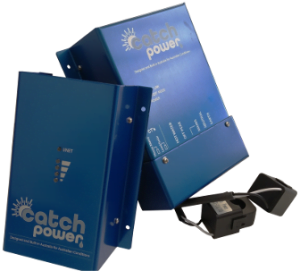 Blue Catch is the Flagship model and boasts some pretty clever smarts. If you like your technology "set & forget" style, this is the one for you. It is internet connected and looks at the weather forecast for the next day to make smart decisions about how much off-peak grid power to use overnight in order to deliver sufficient hot water for the following day. Because this model is so smart, you can "set and forget", however it also comes with a customer portal which allows you to see whats going on with your energy flows and control the system manually if desired.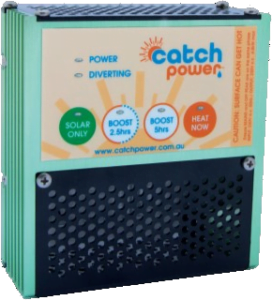 Green Catch doesn't have Internet connectivity like the Blue Catch, it instead uses a manual control to allow you to decide how many hours of off peak power to put to the hot water system each night. Both models are very effective at lowering your quarterly power bill. Due to its price, Green Catch is very popular. Ask your consultant about our bundling deals with Solar Power and Green Catch.