Sometimes, installing solar power is just part of the solution to reduce your energy costs. At Climatecare Electrical, our motto is "We Genuinely Care" and as such we like to take an holistic approach to your needs, considering all the factors that contribute to your overall power bill. Installing Energy Saving products with your solar will often deliver the best results for you. We have taken the time to research and test the best Energy Savers available such as these.
Power Diverters
Power Diverters are designed to divert surplus solar power that would otherwise be exported, into your Hot Water System. In doing so it saves you more money than the exported energy would generate from a Feed in Tariff.
There are a few different ones on the market and Climatecare Electrical recommend Catch Power. These fantastic little units offer some impressive features.
Australian Made for Australian Conditions
Allows your Hot Water System to be connected to both Solar Power and Off Peak tariff
Smart Logic ensures that even during prolonged periods with little surplus solar, your hot water will always be hot.
Single and 3 phase models available
5 year warranty
There are 2 Catch Power models:
Catch Solar Relay
The Catch Solar Relay is a multifunctional timer designed for the solar industry.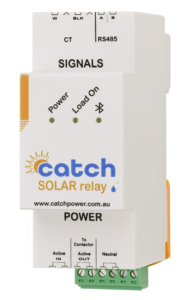 If you have electrical loads that need to be controlled based on time, how much energy your solar system is producing or a combination of BOTH, the Catch Solar Relay is the device to do it. Catch Solar Relay is able to power ANY electrical load. Single or 3 Phase, big or small, Resistive or inductive loads.
Typical Loads
Electric Hot Water
Heat Pump Hot Water Systems
Air Conditioners
Pool Pumps
Irrigation and stock watering pumps
Underfloor Heating
Lighting Circuits
Fans
Garden Water Pumps
The Solar Relay is an Australian Designed and manufactured product that comes with a 5 yr warranty and is Blue Tooth Enabled.
Green Catch Solar Power Diverter
Green Catch doesn't have Internet connectivity like the Blue Catch, it instead uses a manual control to allow you to decide how many hours of off peak power to put to the hot water system each night.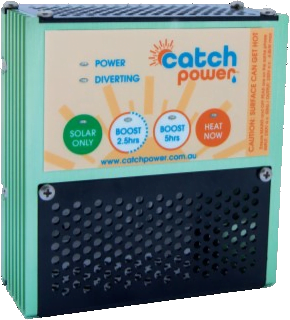 Both models are very effective at lowering your quarterly power bill. Due to its price, Green Catch is very popular. Ask your consultant about our bundling deals with Solar Power and Green Catch.
Solar Roof Ventilators
Climatecare Electrical & Solar now proudly sell and install Solar Roof Ventilators often called Solar Whirly Birds. These units take roof ventilation/attic ventilation to a new level. Not only does the product range offer significantly higher airflow capacity than most powered roof fans available – it is also solely solar powered and controlled – which means that it runs – when required (i.e. when the sun is out) ensuring the roof is cooled by extracting hot air from the roof space at a much higher rate (10-30 times) than a whirlybird roof vent style unit. Whilst there are a few different brands on the market, SolarWhiz came out the best in our research.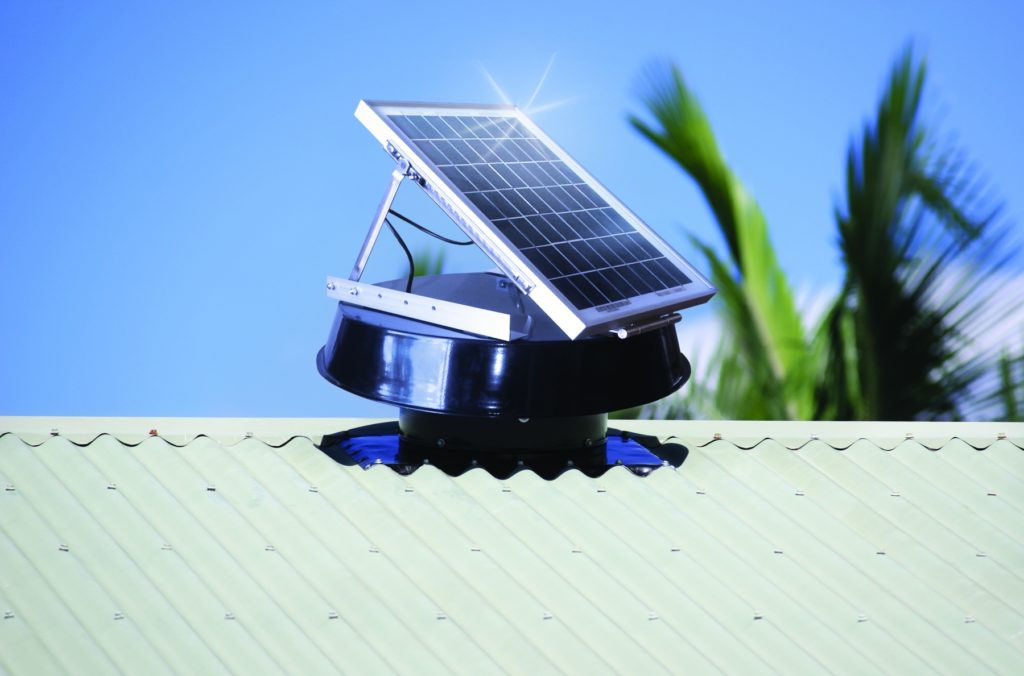 What makes SolarWhiz ventilators the preferred choice is three key points of difference.
A tiltable solar panel, this means that the ventilator can be installed on the southern roof with the panel tilted to the north, keeping the valuable northern roof space available for Solar power panels and solar hot water.
All metal construction makes it a lot tougher compared to the all plastic versions on the market.
Australian based importer so warranty and back-up is easier.
SolarWhiz ventilators are nothing like the tiny DIY ones you see at the local hardware store. They can only move about 11 cubic meters of air per hour. The smallest SolarWhiz moves 700 cubic metres per hour.
We have SolarWhiz ventilators available for the smallest house, right up to larger commercial sheds capable of moving a massive 10,000 cubic metres per hour!
SolarWhiz can be installed in different ways too.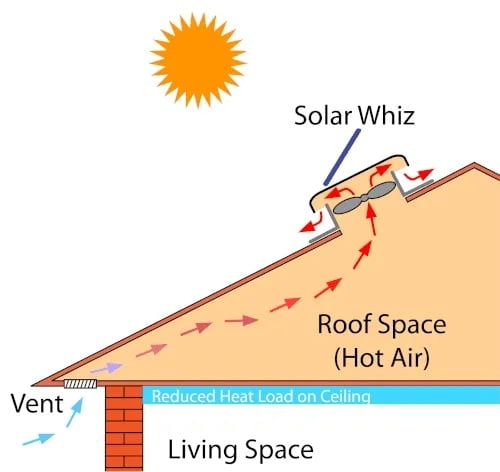 And if needed, they can even be fitted with a Night Ops kit so they can run 24/7.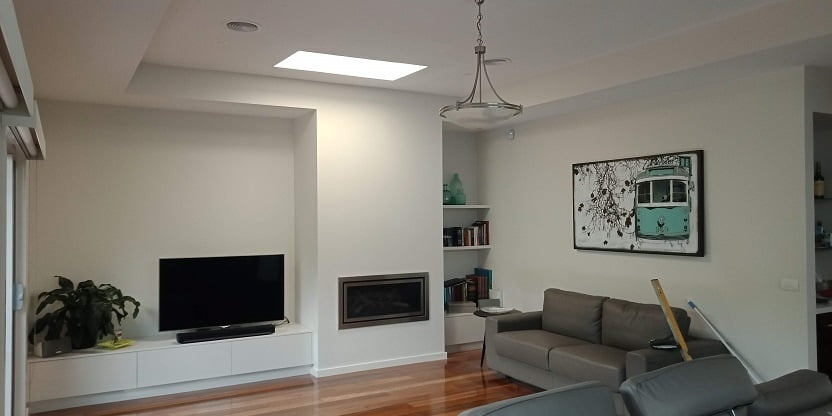 Solar Sky Lights
If you have a room in the house that's a bit dark and want it brighter, you can burn the lights all day or install a skylight.
But sometimes a skylight just isn't in the budget or is impractical. Enter the Solar Sky Light!
This innovative product uses a special solar panel to power an LED light panel, designed to emulate a skylight. It even dims as clouds go over just like a real skylight would. They can also be fitted with a switch so you have total control.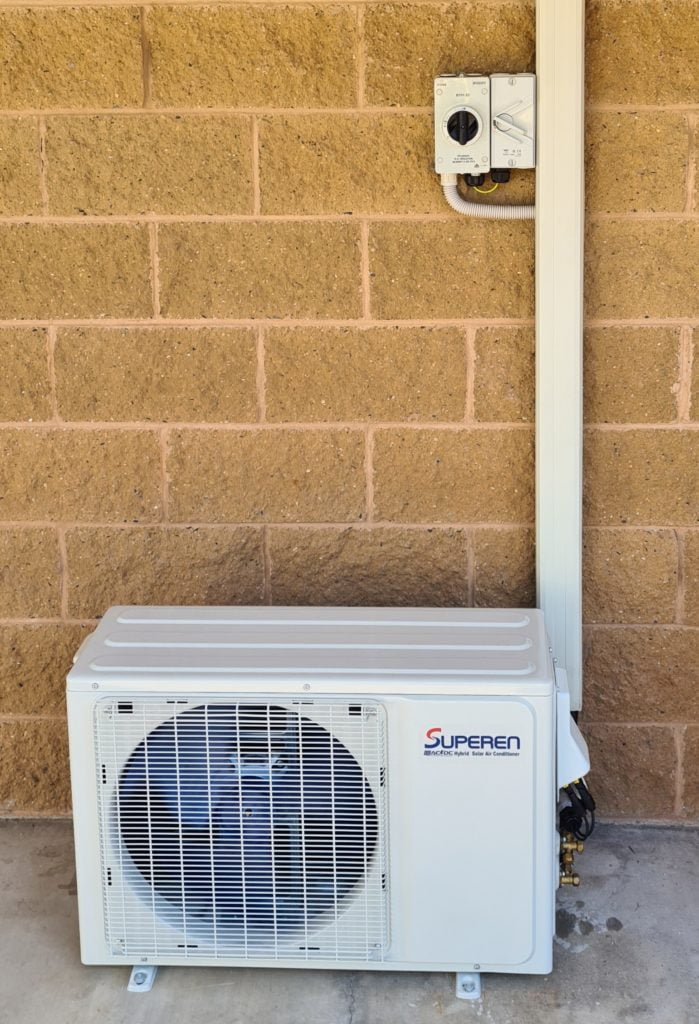 Solar Powered Air Conditioning
Superen manufacture Solar powered Air Conditioners that use regular solar PV panels to provide power to a high efficiency DC Inverter Compressor. An AC connection provides a back up so you are never without cooling. You can add anywhere from 3 to 9 panels depending on how little mains power you want to use. There is even a 48V Off-Grid version. Solar Air Conditioners have had a chequered past, there is no denying but Superen is next generation tech that even qualify for Federal STC Incentives, just like a normal solar system.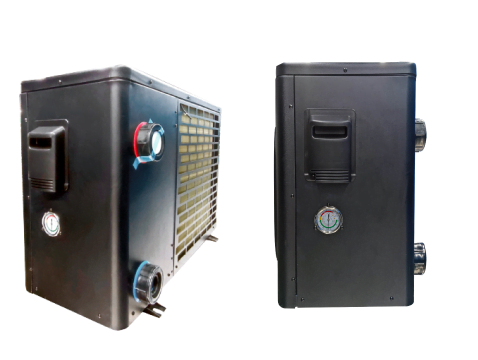 Solar Powered Pool Pumps
Use the sun to power your pool pump (and even the pool heater!)