Grid-connected solar systems are suitable for use by any premises connected to the power grid.
How do they work?
When the sun shines on a solar module the solar cells generate DC electricity
An inverter converts the DC electricity produced by the solar panels into 240V AC electricity.
The 240V AC electricity is then fed back into your home or office and the excess is exported to the electricity grid.
In the event that the electricity grid fails, the inverter will sense that the grid is no longer active and will shut down as a protection measure.
The Grid-connected solar power will no longer supply electricity until the grid power is turned back on.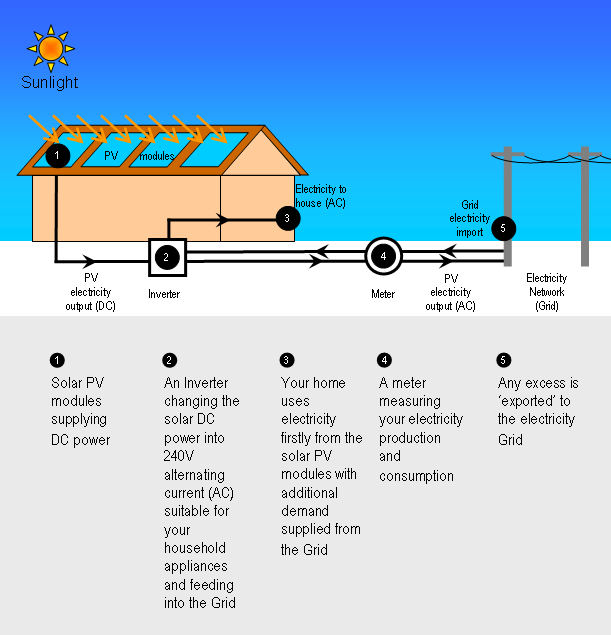 Tips to make the most of your solar panels:
Plan on doing your washing, using the dishwasher, or running your pool pump when the sun is shining directly on your solar panels
If you can, don't run your appliances all at once. For example: once the load of washing has finished, then start the dishwasher
Air conditioners account for a large portion of your power bill, so crank these when you have the sun on your panels (getting your home to the right temperature) and then turn them off when you lose the sun
Make use of slow cookers to use energy during the day instead of at night
Like to know more?
As an accredited Clean Energy Council designer and installer we recommend handbooks and reference information for those of you interested in the nitti-gritti of solar. It covers topics such as policy, industry research, technical studies, technology studies and much more.